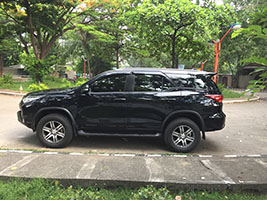 2017 Toyota Fortuner 2.4G 2WD A/T Diesel SUV
2017 Toyota Fortuner 2.4G 2WD A/T rent a car self drive suv is bold yet refined.
Rugged yet stylish this rent a car self drive suv is the latest in it's class. Brimming with power, yet safe as home. A symbol of strength, muscular look and futuristic, yet a vision of beauty. Teeming with cutting-edge technology, yet interface effortlessly with its master.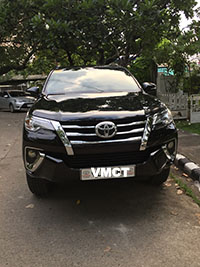 ➥ service type: self-driven (age 21~60 years old) or chauffeur-driven one (1) day minimum
➥ car rental rate: starts at  P2,382 ~ 4,765 (monthly to daily) per day. rental rate differs based on duration and/or destination. (options: additional.driver, GPS using electronic devices, baby car seat & CDW not included)
 ➥ early booking discounts: 5% Off for 30 days early reservation and up to 10% Off for 3 months early reservation.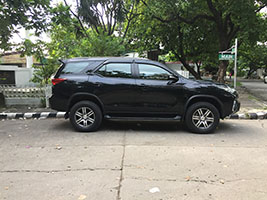 5-DR Sports Utility Vehicle (SUV) with automatic transmission
up to 7~8 seating capacity with seat belts
up to 6 full size luggage or 2-4 balik-bayan boxes
2.4  liter turbo diesel engine
dual air-con controller with 2nd and 3rd row vents
Arguably the best SUV made even better and more modern

Please Like, Share and Follow us on Facebook https://www.facebook.com/carrentalinmanila/ for price updates and promos.

We offer, long-term (six months & above) car rental arrangement which includes FREE quarterly car maintenance. Giving you a less financial obligation.