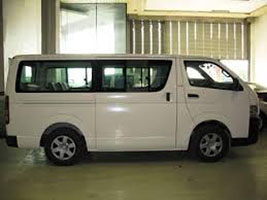 2016 Toyota Hiace Commuter 3.0 MT
2016 Toyota Hiace Commuter 3.0 Manual Transmission  van for rent manila self drive practical for out of town.
Probably one of the most celebrated van across the nation.
Van for rent manila self drive with versatility,fuel efficiency,tested frame and value factor. And is presented in many avatars such as mini-bus, pick-up, deliverya and rent a van, ambulance, taxi,etc. First launched in Philippines in the year 1995.It took the whole segment by storm. With its powerful diesel engine it has received many upgrades till date. Initially coming to the core as a proper commercial and passenger vehicle thus the name commuter, it went on to earn the private 'family van' for rent tag over the years with its continuous transformation and performance.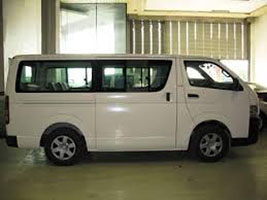 ➥ service type: self-driven (age 21~60 years old) or chauffeur-driven
➥ car rental rate: starts at 1,776 ~ 3,553 (monthly to daily) per day for self drive. rental rate differs based on duration and/or destination. (options: additional driver, GPS using iPad mini, baby car seat & CDW not yet included)
➥ early booking discounts: 5% Off for 30 days early reservation and up to 10% Off for 3 months early reservation and deposit.

Four DR Full-size Van with automatic transmission
up to sixteen full size adults seating capacity with seat belts
up to eight full size luggage or 4 balik-bayan boxes
3.0 liter turbo diesel engine
strong dual air-con with multiple vents
2016 Toyota Hiace Commuter 3.0 with manual transmission it's huge outside promises massive space.Inside the cabin ample legroom for all passengers together with premium interiors, engaging features and long list of convenient essentials.Truly the toyota hi ace commuter is one for the masses.

Like , Share and Follow us on Facebook https://www.facebook.com/carrentalinmanila/ for updates and promos.
We offer, long-term (six months & above) car rental arrangement which includes FREE quarterly car maintenance. Giving you a less financial obligation.