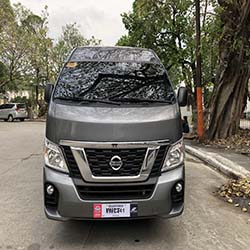 NV350 Premium van for rent
The all new NV350 Premium van for rent with 16 seating capacity.
NV350 Premium 16 seating capacity van boast a conventional full size van with a grand and refined.
Nv350 Premium van for rent with automatic transmission is not just your typical full on van or mini bus as they called. We don't usually carry Nissan brands for particular reason. However let me give you 3 reasons on why we decided to include it to our ever growing fleet of vehicle's wither for self drive or complimented with a driver. First it still carry that typical van look with its engine below the driver for better handling and look on feel while in the driver seat. Secondly those 16 air-con vents at the back that offers the best comfort in it's class complimented by the 4 circulating vents for the front seats. And lastly lets take a look at the actual photos for the obvious.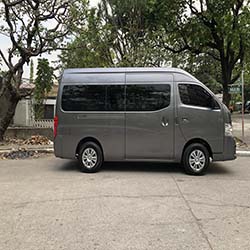 ➥ service type: self-driven (age 21~60 years old) or chauffeur-driven
➥ car rental rate: starts at 2,449.75 ~ 4,899.50 (monthly to daily) per day for  self drive. rental rate differs based on duration and/or destination. with no minimum days rental for SELF-DRIVE. (options: additional driver, GPS using iPad mini, baby car seat & CDW not yet included)
➥ early booking discounts: 5% Off for 30 days early reservation and up to 10% Off for 3 months early reservation with initial deposit.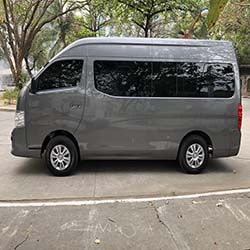 Four Door Full size Van with automatic transmission
up to sixteen seating capacity with seat belts
up to ten full size luggage or 6 balik-bayan boxes
3.0  liter turbo diesel engine
strong circular air-con with 16 vents on all 5 rows
gray metallic silver
four rows of adjustable seats
fordable last row for storage capacity
NV350 Premium van for rent with its obvious size put a whole new level on carrying and storage capacity.

Like ,Share and Follow us on Facebook https://www.facebook.com/carrentalinmanila/ for updates and promos.
We offer, long-term (six months & above) car rental arrangement which includes FREE quarterly car maintenance. Giving you a less financial obligation.