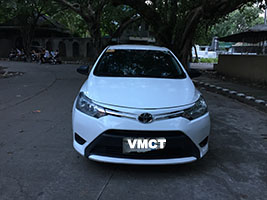 2015 Toyota Vios 1.3j with Manual Transmission is our cheapest rent a car manila.
Perfect for those quick trip back and forth going manila to tagaytay or manila to batangas vise versa.
Rent a car manila whether for business, pleasure or just plain old road trips. The perfect mixture of its fuel Economy and well round sturdiness is unmatched for its segment. That's why its so popular among ts the most experienced of drivers.
A mainstay in all types of transport as public utility vehicle,personal cars ,company services and now the transport network vehicle services or TNVS.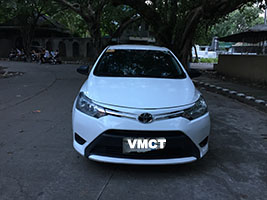 ➥ service type: self-driven (age 21~60 years old) or chauffeur-driven
➥ car rental rate: as low as 842 ~ 1,684  (monthly to daily) per day for self drive rental rate differs based on duration and/or destination. (options: additional driver, GPS using iPad mini, baby car seat & CDW not yet included)
➥ early booking discounts: 5% Off for 30 days early reservation and up to 10% Off for 3 months early reservation with deposit.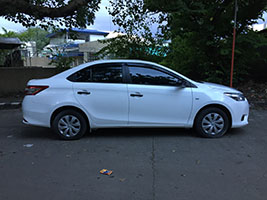 Four Door Compact Sedan with manual transmission

up to five seating capacity with seat belts

up to two full size luggage

1.3 liter powerful VVT-i unleaded gasoline engine

strong air-con with multiple vents

The Toyota Vios engage you with its simple design and is our most rented car yet.
      A Frequent choice by our clients.Mainly for excellent all round vehicle for city driving due to fuel efficiency and tested long trips.May it be up north to baguio and  ilocos or down south to bicol and sorsogon . The driving performance realizes comfort that is smooth and worry-free, enabling you to drive as you want where you want. These low profile qualities bring a satisfying fullness in your experience.
Like and share us on facebook  https://www.facebook.com/carrentalinmanila/ for updates and promos.

We offer, long-term (six months & above) car rental arrangement which includes FREE quarterly car maintenance. Giving you a less financial obligation.